I Left Tencent AI and Raised $2M to Build the Next Neural Search Company in Open Source
Feb 18, 2020 by

Han Xiao - Founder & CEO @ Jina AI 👐 We are hiring!
TLDR;
Two years after moving back to China and joined Tencent AI Lab, it is time for me to take the next step and move forward. Only this time, I'm starting my own business:
The 2M USD seed funding is ready for our dreams to take off –– to build the next neural search company.
We provide the ability to instantly retrieve relevant data of all kinds using state-of-the-art deep learning & AI techniques, including text snippets, long documents, photos, short videos, audio clips, and meta-data. We enable current and future use-cases, including but not limited to enterprise search, media-data-intelligence, QA, short-video search, visual-based ads, and customer service.
We are fully committed to open source.
Our international core team consists of top-notch engineers, researchers and business & community developers from China and Germany.
Our company will start to operate in Beijing and Berlin from 2020 Q1.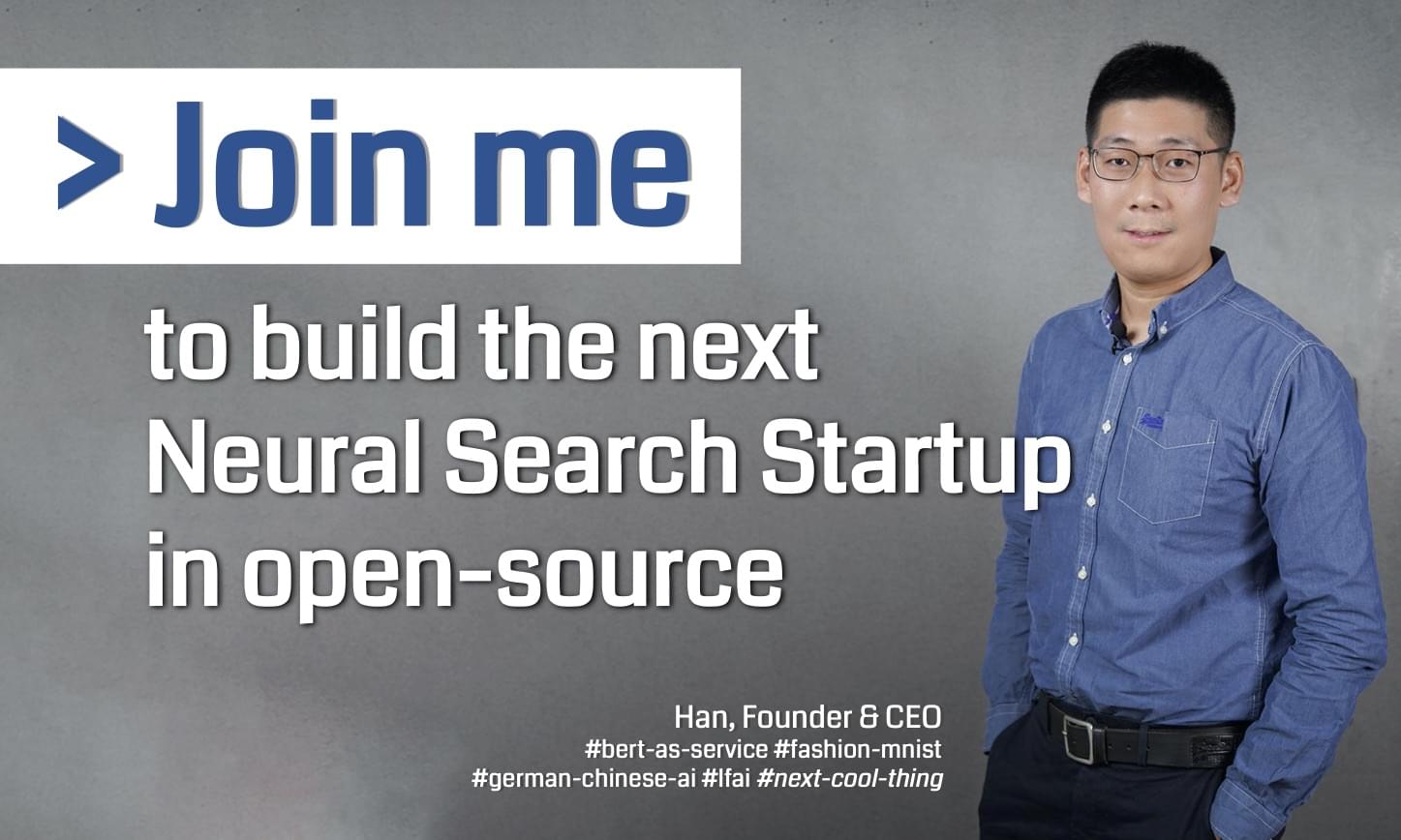 Who Am I?
I'm Han Xiao (肖涵), a Beijinger who spent years in Munich, Berlin and Shenzhen.
Many people may know me from bert-as-service and Fashion-MNIST, of which I am the creator. These two open-source projects are indeed something I am very proud of: they are not only popular in numbers, but also created significant impact on AI researchers, engineers and enthusiasts around the globe. Hundreds of tutorials, tools, papers and software have been inspired, built and published based on these two projects. To me, there is nothing more exciting than seeing the community benefit from the open-technologies and build the synergy around them.
During my last two years (2018 — 2020) at Tencent AI Lab, I've worked on multiple deep learning projects spanning across different domains such as predicting legal cases, machine reading comprehension. I was really impressed by the massive AI use cases that can make our life easier and more enjoyable. This huge AI consumer market in China and the potentials are something I couldn't perceive when I was in Germany. One of my key roles at Tencent was leading a team on neural information retrieval, laying down the large-scale search infrastructure for a China's everyday app. Lucky for me, this role is a continuation of my last career (2014 — 2018) back in Zalando, where I built the product search system using deep learning. In other words, I've been working on the search systems at the production-level over the last six years.
Though programming is always enjoyable for me, I never limit my vision to it. I consider myself as an open-source evangelist. I served in the Tencent Technical Advisory Council and Opensource Program Office, fostering the open-source and DevOps culture inside the company via meetups and video tutorials. I initiated Tencent joining the TODO group in summer 2019, to better work with the international frontiers on building practices, tools and cultures of open-source. I also served as the board member at LF AI Foundation from 2019, driving the open source innovation in AI by enabling global collaboration. While working with multiple teams from the Linux Foundation, I was introduced to the idea of commercial open-source software and really started to learn the business logic behind it.
Strictly speaking, this isn't the first time I found an organization. In late 2017, I founded a non-profit organization the German-Chinese Association of AI (GCAAI) in Berlin with only 7 people. The mission is to boost the education, research and public resources exchange between Germany and China in the field of AI. Building friendships across borders and being the window of each other are always at the core of GCAAI. Two years later, GCAAI has grown to more than 700 international members across Europe and China with a resourceful network between the two continents. It was even quoted by the Nature.
Why Neural Search?
It is my passion, my area of expertise and where our team see great potentials in. From the market perspective, there are two pain points of the current token/symbolic-based search:
Increasing unsearchable content in enterprise IT & consumer markets that are not handled by the token/symbolic-based search. This includes images, videos, animations, audios, 3D model renderings, and meta data.
Evolving needs have been shifted from count-based statistics to the cognitive/AI-driven insights, e.g. QA on enterprise wiki, media resources search, and meta-data intelligence.
Our Neural Search aims at the generality, enabling the search of almost any content form (e.g. text, image, video, audio); it aims at AI-in-production, leveraging the modern software infrastructure and building with the best engineering practice; it aims at easy-to-use, optimizing for multiple platforms, architectures and use cases. We see wide applications of such system in the industries such as banking & financial, administrative, retail and healthcare especially in China, Europe and North America.
Our goal is bold and ambitious. It is far more efficient to achieve the goal with the open-source developer communities and thousands of open-source projects — both large and small. We understand open source is much more beyond releasing the code or collecting stars. It is about connecting software with people and building a highly available and sustainable ecosystem. Understand the community, respect the best practice, create synergies and embrace open-technologies, these are key tenets of our business culture.
Interested to Know More?
Want to stay tuned and know more about this startup? Or are you already excited to work with us? Feel free to contact me via LinkedIn, Twitter @hxiao and follow my Github. In the coming weeks, we will open multiple social media channels to keep you in the loop.